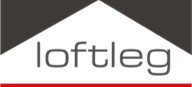 Loft Legs Loft Flooring, Boarding, Storage and Lighting Solutions.
Unique loft products for raising loft boards above insulation, creating additional loft storage and illuminating loft spaces.
Loft Leg Ltd. design and manufacture innovative loft storage solutions that create bright, organised, energy efficient lofts. All Loft Leg's products are designed to work with, and protect, insulation products in the loft to create useful storage spaces while saving households energy and money.
All Loft Leg's products use recycled materials, and are manufactured in the UK wherever possible, to the highest international standards.
The company's first product, the Loft Leg™, was designed to create a simple, light and inexpensive raised boarded area in the loft above the government recommended 270mm of glass wool insulation. The raised loft floor creates an ideal storage and access platform, protecting the insulation from compression. The Loft Leg has become the industry standard for raising loft storage platforms, trusted by energy companies, professional insulation installers and home owners throughout the UK.
Building on this success Loft Leg are continually innovating in their Loft Lab to create new, unique, loft storage, organisation and illumination products.