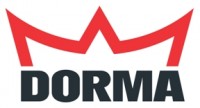 Dorma Door Controls
DORMA is the trusted global partner for premium access solutions & services enabling better buildings. With over 100 years of tradition behind it, the company offers holistic solutions covering all facets of door operability – from hinges, door closers and floor springs to automatic door systems and time & access control solutions. DORMA also supplies horizontal sliding wall systems.
DORMA maintains major production plants in Europe, Singapore, Malaysia, China and North and South America. Headquartered in Ennepetal, the internationally active DORMA Group is represented in more than 50 countries
Dorma in the UK
DORMA was established in the UK in 1978 with the formation of DORMA Door Controls Ltd, then in 1979, DORMA Door Controls (Ireland) Ltd was established.
In the UK, DORMA Glass was introduced in 1986; DORMA Entrance Systems Ltd was established in 1991, to focus on the automatic door sector; and within 12 months a sister company, Access Control & Maintenance Engineering Ltd, was founded to deal with the service and maintenance of our automatic door installations.
DORMA subsequently acquired another four service companies (Permclose Door Services Ltd, Door and Window Services Ltd, Dor-Tech Nationwide Ltd, Specialized Door and Window Services Ltd) allowing us to increase the range of services to cover manual and industrial doors. In July 2003 the seven individual companies amalgamated as DORMA UK Limited.