Loft Legs Loft Flooring Legs 175mm x 76mm x 76mm Pack of 12.
Product Reference: LOFTLEG
Using Loft Legs raises your loft boards by 175mm, avoiding insulation compression, saving you energy and money.
The Loft Leg is an ideal storage solution for new build or existing non-boarded lofts.
Creates a raised loft floor above 270mm of quilt insulation.
Easy to fit.
Strong enough to walk on and store up to 25Kg per square metre (LOADING LIMIT OF EXISTING CEILING STRUCTURE SHOULD BE CONFIRMED BY A STRUCTURAL ENGINEER)
Avoids insulation compression saving energy and money.
Manufactured in the UK from recycled materials.
Fit quickly and easily with 4.0x30mm or 1 1/4"x8 screws.
Manufactured and tested to exceed BS EN 1991-1-1:2002
What is a Loft Leg?
The Loft Leg is a unique design protected solution to avoid insulation compression when using your loft for storage. Government guidelines recommend that we insulate with 270mm of quilt insulation to achieve a U value of 0.16 (www.energysavingtrust.org.uk). Thermal studies have shown that compressing your insulation can reduce its thermal properties by more than 50%. A 175mm Loft Leg fixed on top of a 100mm truss or ceiling joist provides a light weight, cost effective solution. Developed by a team of engineers and designers the Loft Leg is strong, lightweight and easy to install. The Loft Leg is manufactured in the UK from recycled polypropylene, to ISO9001 standards and has been mechanically tested by independent experts.
Loft Legs are designed to avoid insulation compression.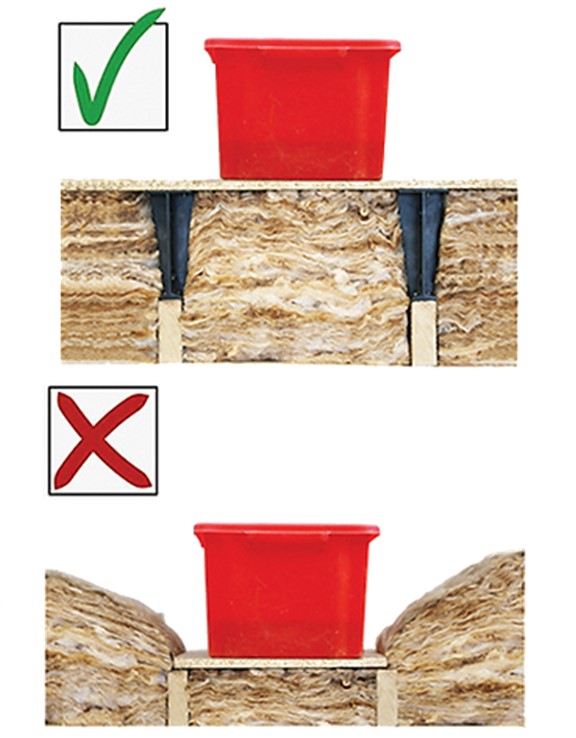 How many do I need?
Loft Legs are sold in boxes of 12 units. The number of Loft Legs you will need depends on the type of loft boards you are using, the distance between your ceiling joists and the area you wish to cover. You can download the pdf calculator here.
Raised Loft Floor Fitting Instructions.
You can download the pdf fitting instructions here.
We recommend the following screws: 4.0mm x 30mm Reisser Woodscrews.
​Note: Using screws larger or wider than 4mm x 30mm may result in difficulties screwing through the legs.
How to Build a Raised Loft Floor Fitting Guide Videos.
How to fit Loft Legs
Screwing down the Loft Leg
Screwing down the chipboard