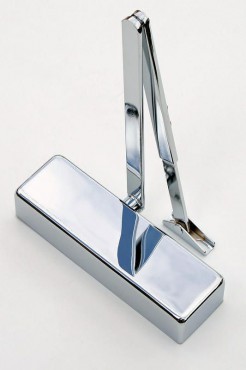 Product Description:
Boss Size 2 - 4 Overhead Door Closer in Polished Stainless Steel Finish.
Product Reference: TS4.224-PSS
A stylish adjustable power overhead door closer, suitable for many applications where there is general usage, such as office accommodation, flat entrance doors etc. Supplied with an architectural quality slimline cover with a matching finish arm as standard.
Spring strength adjustable by position from size 2 - 4 for doors up to 950mm in width and 60kg in weight.
Features:
Suitable for doors up to 950mm maximum width or 60kg weight
Power adjustable size 2 - 4 by template
Universal application (Figure1, 6 & 61)
Adjustable closing speed
Adjustable latching speed
Manufacturers 25 year guarantee
Full Specification Data Sheet here.
Standards:
Included in a successful fire test to EN1634
CE marked against EN1154
Certifire approved - refer to CF689 for scope of approval
Safe in use
High corrosion resistance
Body Dimensions:
Length 220mm
Width 59mm
Depth 42mm
Finish:
Polished Stainless Steel
Similar products can be found in these categories:
Door Closers
Medium Duty Door Closers
Size 2 - 4 Overhead Fire Door Closers
All Boss Door Controls Products
Accessories: