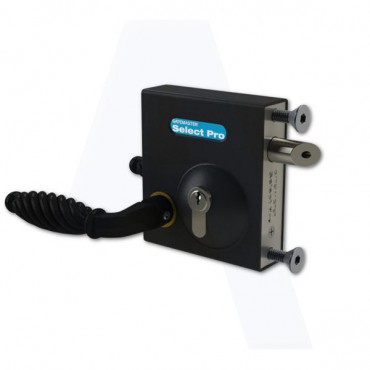 Product Description:
Gatemaster Bolt-On Gate Latch Deadlock with Handles for 40 - 60mm Gate Frame.
Product Reference: SBLD1602TDH
Weather resistant and salt spray tested to marine grade, the Gatemaster Bolt On Latch Deadlock is designed for durability. With 2 handles styles and 2 sizes to choose from, plus with adjustable length stainless steel latchbolt, these non-handed latch deadlocks are versatile and easy to use. Please ensure you choose the correct product to suit the gate frame size.
Stainless steel latchbolt which springs 13mm into the gate post and then moves to 30mm when the key is turned to deadlock the lock.
Adjustable latchbolt for precise fitting on site.
Keyed both sides for easy access.
Latchbolt rotates easily for handing.
Available in two sizes - SBLD1601 for 10-30mm gate frame and SBLD1602 for 40 - 60mm gate frames.
Supplied with handles.
Supplied with bolt guide plate and gate post strike plate. The brass bearing plate locates the latchbolt precisely and guarantees a very smooth gate closing action.
1 Year Guarantee.
Suitable for 40mm - 60mm gate frame.
Handle type: Traditional Lever
Similar products can be found in these categories:
Locks, Latches & Security
Gate Locks
Metal Gate Locks
All Gatemaster Gate Locks and Security Products