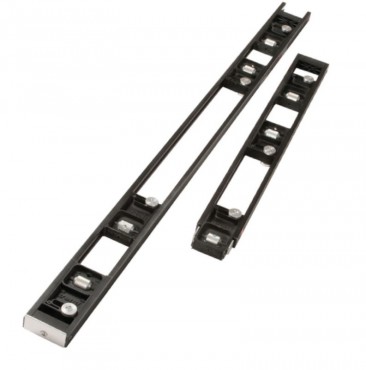 Trend H/JIG/C Hinge Jig Skeleton 2 part in Case
Collect In Store Only
Product Description:
The Trend 2 part Skeleton Hinge Jig with Carry Case.
Product Reference: H/JIG/C

Trend easy to use two part adjustable block portable template set designed for recessing hinges in wooden doors and frames with a router.

Benefits;
It is easy to use with minimal setting-up time, completing the job both accurately and quickly.
Used on-site and in joinery shops to increase productivity with excellent results.
Fully adjustable apertures for fire door requirements and renovation work.
No need for marking out in the conventional way.
Quick and simple to set-up as the hinge is used as the pattern.
Clean and accurate recesses are achieved every time. Suitable for timber based doors & square butt hinges.
Use with a light duty plunge router with 1/4 inch collet.
Long reach router cutter required, 12mm diameter with 70mm overall length.
Adjustable edge guides with preset for hinge of 20mm, 25mm and 30mm
Unibase may be needed.
Patent No. GB2285410, GB1106608.1
T4EK router requires a ref. UNIBASE or special guide bush ref. GB/T4/160.
Comes with:
3 x Hinge sliding aperture block assemblies
4 x Bradawls (short blade)
1 x 16mm guide bush
1 x Carry case
Dimensions:
Hinge sizes possible
Length min. = 2 5/8" (67 mm)
Length max. = 5" (127 mm)
Width min. = 1/2" (12.7 mm)
Width max. = 1 3/8" (35 mm)

Door sizes possible:
Height min. = 6' 5" (1956 mm)
Height max. = 2100 mm*
Thickness min. = 5/8" (16 mm)
Thickness max. = 2" (51 mm)

Weight= 2.9 kg
Jig overall length = 1956 mm

* Please note for doors over 2040mm the bottom hinge will be higher than 9" up.
How To Use The Trend Skeleton Hinge Jig.
Similar products can be found in these categories:
Trend Woodworking Tools
Trend Router Jigs
Trend Hinge Jigs
Power Tools & Accessories
Router Jigs & Tables
Hinge Jigs
All Trend Routing & Woodworking Products
Accessories: