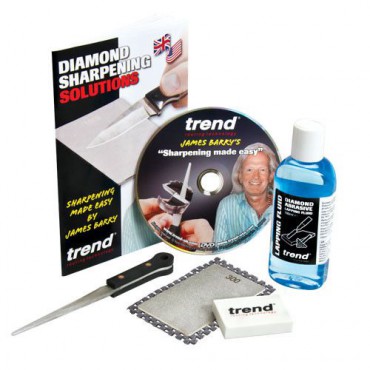 Product Description:
The Trend Complete Sharpening Kit
Product Reference: DWS/KIT/C

A diamond whetstone kit comprising of:-
A precision hand made double sided credit card size diamond stone, fine 600 grit (25 micron) and coarse 300 grit (50 micron). Ideal for fluted, shaped and small router bits, Carbide or HSS Turning tools, chisels, plane blades, carving tools & all general tooling.
A versatile 3-inch half round/flat mini tapered file suitable for woodworking, gardening & domestic tooling. Fine 600 grit (25 micron) with split plastic contoured hand-grip which is pinned either side of blade. Suitable for woodturning gouge internal and external bevel edges, skews, carving tools, model engineering, router cutters, saw blades, small chisels, knives, serrated edges, metals and plastics, pruners, shears and all shaped tooling.
Lapping fluid, suitable for use with all quality diamond abrasive products. Use instead of water to reduce the threat of rusting by 95%. Reduces possibility of clogging and improves diamond performance.
James Barry Sharpening Made Easy DVD and Sharpening Booklet featuring hints and tips on sharpening all tools including router bits, sawblades, chisels, planes and knives etc.
Cleaning block. Used to maintain life of stones.
Comes with:
1 x DWS/CC/FC with non slip mat
1 x DWS/TF3M/F
1 x DWS/LF/100
1 x DVD/DWS/SME
1 x BOOK/DWS
1 x DWS/CB/A
Similar products can be found in these categories:
Trend Woodworking Tools
Trend Special Offers
Trend Promotions
Trend Woodworking Tools
Trend Diamond Sharpening
Trend Professional Diamond Stones
Power Tools & Accessories
Sharpening & Honing Tools
Diamond Sharpening & Honing Tools
All Trend Routing & Woodworking Products
Accessories: