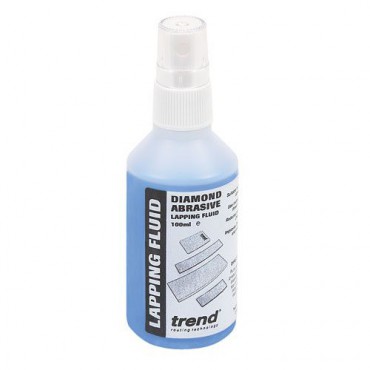 Product Description:
Trend Diamond Abrasive Lapping Fluid 100ml.
Product Reference: DWS/LF/100

Trend lapping fluid was designed solely for use in the engineering industry for use with diamond abrasives and has been used for more than 30 years. WD 40 or other such lubricants are too thick and result in your tool skating over the diamond surface.
Use with Trend DWS Professional Diamond Stones to guarantee a 5 year manufacturers warranty.
Suitable for use with all quality diamond abrasive products
Use instead of water to reduce the threat of rusting by 95%
Reduces possibility of clogging and improves diamond performance.
Size = 100ml
Hazard Type - Harmful.

How to use Trend Lapping Fluid.
Similar products can be found in these categories:
Trend Woodworking Tools
Trend Diamond Sharpening
Trend Diamond Lapping Fluid
Power Tools & Accessories
Sharpening & Honing Tools
Diamond Sharpening & Honing Tools
All Trend Routing & Woodworking Products