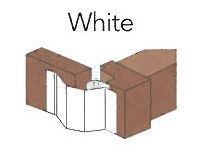 Bulk Discounts
Qty
Discount
Unit Price (Ex VAT)
Unit Price (Inc VAT)
5
2.5%
24.28
29.14
10
7.52%
23.03
27.64
25
28.57%
17.79
21.35
Product Description:
Finger Keeper Finger Protector in White from Cookson Hardware.
Product Reference: AFFKWH
Finger Keeper is a finger guard that prevents door finger trapping accidents. By totally covering the gap that is created on the hinge side of a door, in the open position, it prevents finger trapping injuries.Finger Keeper can be fitted to most types of doors including wood, metal and uPVC. Sold in 1960mm lengths. Full fitting kit included. Also acts as a secondary smoke inhibitor and draught excluder. Low maintenance - wipe clean finish.
Extremely simple to install and has a long life expectancy and can be easily removed and refitted for door painting etc. no glue or nails required.
Every year, according to RoSPA, over 30,000 children are injured in the UK as a result of trapping their fingers in doors.Schools, Day Care Centres, Nurseries etc. - create the safest working environment and avoid potentially costly and disruptive injury claims. You may also benefit from reduced insurance premiums.
For total protection from finger trapping injuries in doors see also the rear hinge guard -
Finger Keeper Rearguard
.
Finish:
White
Similar products can be found in these categories:
Door Hardware
Finger Protection
Finger Keeper Protector
All Astroflame Intumescent Products Products