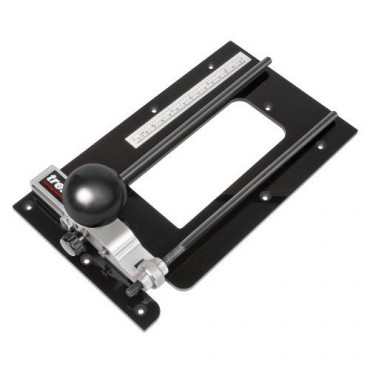 Product Description:
Trend Combination Router Base.
Product Reference: CRB

The Trend Combination Router Base is a retro fit, quick change, multi-functional router base designed to:
Increase the overall versatility of the router.
Improve the quality of finish of every routing pass.
Reduce the possibility of error.
Increase stability during routing.
Increase the level of precision achieved.
Save set up time between tasks.
Save space on storing hand made jigs.
The CRB has seven functions - an offset baseplate, router compass from 19mm to 224mm radius, adjustable trenching with a clamp guide with 40mm micro adjustment, adjustable anti-tilt support, adjustable mortising of timber from 50mm to 200mm width, adjustable false panel groove copier and also enhances the Varijig frame system as an anti-tilt device when used with routers that can accept Euro style guide bushes (a special guide bush ref GB40/B is required).
The CRB will fit most routers with two 8mm, 10mm and 12mm fence rod holes at centres of 78mm to 130mm.
An accessory quick fit edge trimming base is available for trimming lipping up to 16mm wide and 6mm projection, ref. CRB/TB.
Larger circles can be accommodated by using accessory extension rods ref. N/COMPASS/AEX to increase radius by 560mm.

Comes with:
1 x Plastic baseplate with handle
1 x Bridge
2 x Rods 8mm dia x 270mm
1 x Bridge shim pack (2x2mm, 1x2mm, 1x1mm, 1x0.5mm)
1 x Scale
1 x Pivot pin
1 x Pair of mortise pillars
Dimensions:
Rod size = 8 mm
Rod centres = 78 mm to 130 mm
Mortising width min. = 50 mm
Mortising width max. = 200 mm
Anti-tilt height max. = 80 mm
Anti-tilt height min. = 8 mm
Lateral adjustment = 110 mm
Micro adjustment = 40 mm
One revolution = 1.25 mm
Circle dimensions using 6.35mm cutter and measured from outside edge of hole:
Circle radius min. = 19 mm
Circle diameter min. = 38 mm
Circle radius max. = 224 mm
Circle diameter max. = 448 mm
Length = 285 mm
Width = 175 mm
Thickness = 5 mm
Cutter diameter max. possible = 40 mm. Please refer to router manufacturers specification.
How to use the Trend CRB Combination Router Base.
Similar products can be found in these categories:
Trend Woodworking Tools
Trend Router Jigs
Trend Combination Router Base
Power Tools & Accessories
Router Jigs & Tables
Combination Router Base
All Trend Routing & Woodworking Products
Accessories: