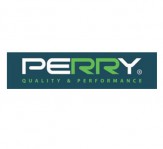 A. Perry Hinges Stockist.
A. Perry are a British manufacturer of traditional ironmongery products and have been in business for over 90 years.
We have a great selection of gate hinges for hanging your gate or heavy doors including; Tee Hinges and Band and Hook Hinges.
If you are looking for door bolts to secure your door or gate, choose from the basic but strong Tower Bolts to the larger Garage Door Bolts, Monkey Tail Bolts and Bow Handle Bolts or if you require the lockable Pad Bolts and Brenton Bolts, which can be secured with a separate Padlock.
Amongst our most popular lines are the Garage Door Stays and Door Holders.
To complete the look on your gate or door you might want to look at our Gate Latches, Gate Catches and Hasp and Staples.
A. Perry also produce Corner Braces and Plates, Cabin Hooks and many more ironmongery products.
You will find everything you need for your wooden gate or garage door right here.