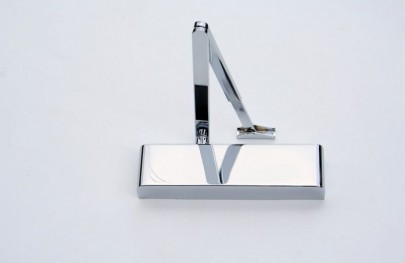 Product Description:
Boss Size 2 - 4 Overhead Door Closer with Backcheck in Polished Stainless Steel Finish.
Product Reference: TS5.224BC-PSS
An efficient, durable and stylish adjustable power overhead door closer. Suitable for most applications particularly those with constant use which require a backcheck function. Supplied with an architectural quality slimline cover with a matching finish arm as standard. The TS5.224 has adjustable power, backcheck, and adjustments for latching speed and closing speed. Spring strength adjustable by position from size 2 - 4 for doors up to 1100mm in width and 80kg in weight.
Features:
Suitable for doors up to 1100mm maximum width or 80kg weight
Power adjustable size 2 - 4 by position
Universal application (Figure1, 6 & 61) (Figure 61 not covered by CE or Certifire)
Adjustable backcheck
Adjustable closing speed
Adjustable latching speed
Manufacturers 25 year guarantee
Full Specification Data Sheet here.
Standards:
Included in a successful fire test to EN1634
CE marked against EN1154
Certifire approved
Body Dimensions:
Length 207mm
Width 55mm
Depth 38mm
Finish:
Polished Stainless Steel
Similar products can be found in these categories:
Door Closers
Medium Duty Door Closers
Size 2 - 4 Overhead Fire Door Closers with Backcheck
All Boss Door Controls Products