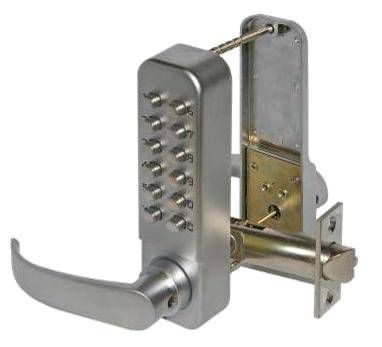 Bulk Discounts
Qty
Discount
Unit Price (Ex VAT)
Unit Price (Inc VAT)
5
10%
61.78
74.14
Product Description:
Securefast Digital Door Lock Easy Code Plus Lever Handle Pushbutton in Satin Chrome Finish.
Product Reference: SBL330.SL
The Securefast "Easy Code Plus" pushbutton digital lock is designed to offer a simple and convenient means of providing security for low to medium traffic areas such as storerooms, workshops, plant rooms and offices and is supplied complete with a 60mm backset deadlocking tubular latch.
The Easy Code Plus range of mechanical digital coded locks includes a mechanism unit which is superior to the conventional systems as the code is easily changed by rotating a pin on the back of the unit and the mechanism also has an enhanced security system that prevents the code from being detected by professional villains. The digits on the front of the outside unit consist of a cancel button and eleven digits from which to choose a code from 1 to 11.
Features:
Easy Code change.
Lever handle on both sides with no hold back feature.
The SBL330SL offers over 2000 different non-sequential codes.
Supplied with 60mm backset deadlocking tubular latch.
Finish:
Satin Chrome Plated (SCP)
How To Change The Code:
The Easy Code change range of mechanical digital coded locks eliminates the need to move detainers around in the mechanism to change the code by simply pushing in and rotating the dials for the digits on the reverse side of the outside unit using a flat screwdriver. The indicator dot on the appropriate dial next to the digit indicates the set code.
Similar products can be found in these categories:
Locks, Latches & Security
Digital Door Locks
Push Button Door Locks
All Securefast Locks and Security Products Products
Accessories: