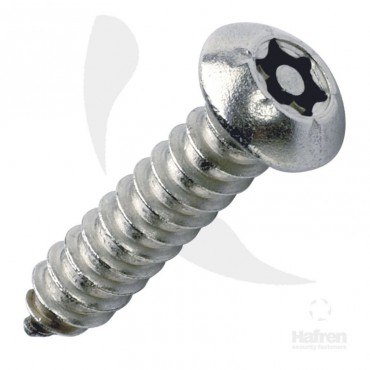 Security Screws Stainless Steel 6 Lobe Pin BUTTON Head 10 x 2" Box 100
Product Description:
10 x 2" 6 Lobe Pin Button Head Stainless Steel Security Screws from Cookson Hardware.
Product Reference: RTBS10J
A2 Stainless Steel security screws with a button head with 6 lobe pin security recessed drive (sometimes known as star drive pin, pin torx or Resistorx). Manufactured with a central pin inside the six-lobe recess preventing removal with standard torx tools, these screws are suitable for higher torque applications.
A2 stainless steel
6-lobe pin drive
Button head
Box Quantity:
100 (Quantity discounts are available - please ring for price)
Size:
4.8mm (10s) x 50mm (2")
Driver Bit Size:
T25 (sold separately)
Similar products can be found in these categories:
Screws, Nails and Fixings
Security Screws
Hafren Stainless Steel Button Head Security Screws
All Hafren Security Fasteners Products
Accessories: