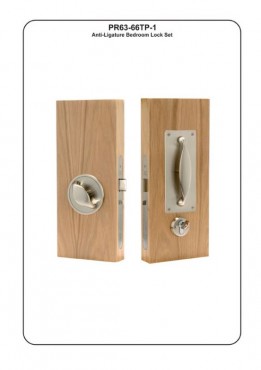 Primera PR-1-66-729B Anti Ligature Auto Nightlatch Bedroom Lockset. 54mm door SSS
Product Description:
This door set has been specifically designed for use in mental health and psychiatric establishments in order to help address the problem of client self harm, yet at the same time provide a high level of client privacy.

The deadlocking night latch will automatically deadlock when the door is closed. A 20 degree turn of the internal anti-ligature thumb turn releases the latch allowing the door to be pulled open by way of the integral anti-ligature pull. Externally the door is unlocked by use of the key.

Staff access is guaranteed at all times by way of the control key. This control function is a unique feature of the specially designed lock case, allowing this lockset to be used with any euro profile half cylinder.

Where doors are fitted with door closers and where clients have reduced manual dexterity, an additional pull handle may be required on the "pull side" of the door.
Similar products can be found in these categories:
Anti Ligature Hardware
Primera Anti Ligature Products
Primera Anti Ligature Bedroom Locksets
All Primera Life Anti-Ligature Hardware Products