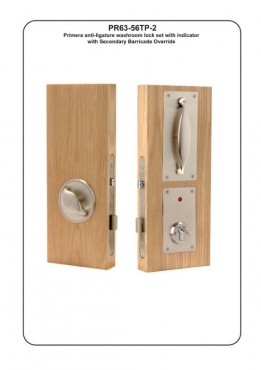 Primera PR-1-56-729B Anti Ligature Washroom Lockset SCP
Product Description:
This lockset is specifically designed for use on communal washrooms, bathrooms etc within mental health and psychiatric establishments.

The lock case incorporates a bathroom deadlock with a push/pull roller catch. The deadbolt is thrown or withdrawn by the anti-ligature thumb turn / pull on the inside which at the same time changes the room status indicator on the outside. The deadbolt is thrown and withdrawn from the outside by use of the key in the single cylinder.

Staff access is guaranteed at all times by use of the control key. This control is a unique integral feature of the specially designed lock case, allowing any euro profile single cylinder to be used, thus allowing the lock set to be master keyed to existing suites.

Where doors are fitted with door closers, an anti-ligature pull handle may be required to the pull side of the door.

Unique Anti-ligature thumb turn with integral pull
Anti-ligature pull handle
Mortice deadlock with 80mm backset and push/pull roller catch
Modern ergonomic design lines
Key control within lock case
Reduced risk of client self harm
Positive identification of room status
Staff access at all times via control key
Operates with any euro profile half cylinder
Highly engineered for durability
Tamper proof fixings
Similar products can be found in these categories:
Anti Ligature Hardware
Primera Anti Ligature Products
Primera Anti Ligature Washroom Locksets
All Primera Life Anti-Ligature Hardware Products