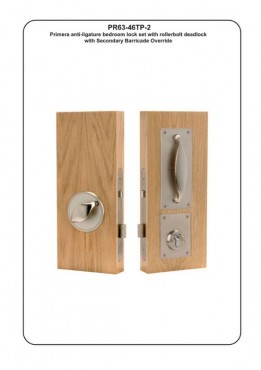 Primera PR-1-46-729B Anti Ligature Bedroom Lockset SCP
Product Description:
This lockset is specifically designed for use in mental health and psychiatric establishments.

The lock case incorporates a deadlock with a push/pull roller catch. The deadbolt is thrown or withdrawn either by the anti-ligature thumb turn / pull on the inside and by the key in the single cylinder on the outside.

Staff access is guaranteed at all times by use of the control key. This control is a unique integral feature of the specially designed lock case, allowing any euro profile single cylinder to be used, thus allowing the lock set to be master keyed to existing suites.
Similar products can be found in these categories:
Anti Ligature Hardware
Primera Anti Ligature Products
Primera Anti Ligature Bedroom Locksets
All Primera Life Anti-Ligature Hardware Products