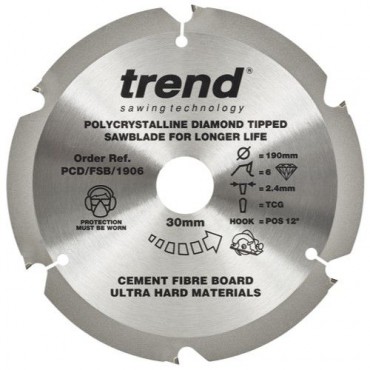 Product Description:
Trend Polycrystalline Circular Saw Blade 190mm x 6T x 30mm bore.
Product Reference: PCD/FSB/1906
PCD sawblade for use on cement fibre board and tool-wearing material eg laminate, solid wood and ultra hard materials.
Precision EDM ground high-quality industrial polycrystalline diamond cutting tips.
Flat tooth with chamfer (Triple Chip Grind) tips for cleaner cut.
Laser cut hardened body.
Longer life, faster cleaner cuts with less dust.
Up to 60 times longer life when compared to TCT blades.
Ideal for Hardie-Board cladding, Aqua board, Minerit, Eternit and MDF.
Portable, bench and mitre saw use.
Dimensions:
Diameter=7 1/2 inches / 190 mm
Bore=30 mm
Kerf=2.4 mm
Plate thick=1.6 mm
No. of Teeth=6
Tooth form=TCG
Hook=12 degrees
Quick Selector No.=15.2
Cut Finish=Coarse
Max rpm=7000
It is recommended that the blade should not project more than 1mm out of bottom of substrate.
Similar products can be found in these categories:
Trend Woodworking Tools
Trend Circular Saw Blades Professional
Trend Polycrystalline PCD Saw Blades
Power Tools & Accessories
Blades for Power Tools
Blades for Circular Saws
Tools
Power Tool Accessories
Circular Saw Blades
All Trend Routing & Woodworking Products