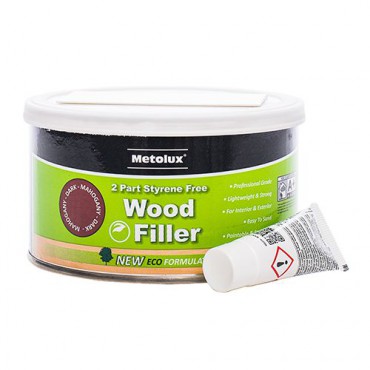 Product Description:
Metolux 2 Part Styrene Free Wood Filler White 275ml.
Product Reference: 65431

Metolux 2 Part Styrene Free Wood Filler is a pre-coloured two-part high strength polyester wood filler supplied in retail and trade pack sizes.
Supplied with a separate hardener, this wood filler provides a strong high quality repair to wood imperfections. Supplied in a large range of pre-coloured blends to match your wood type.
Key Benefits;
Large trade pack sizes in a range of suitable colour matches
Professional Grade
Durable Repair
Paintable & Stainable
Premium quality product for professionals. • Non slump for corner work
Accepts all finishes including all known paint systems and varnishes
Easy to sand down to perfection
Weatherproof for interior or exterior use
Attractive hard wearing printed tin packaging with dish lid for spreader.
Size: 275ml tin
Colour: White
Uses:
Ideal for repairing knots, splits and dents in finished wood in internal or external situations where a standard coat of priming or painting is required for a fast curing repair. For areas such as window frames and sills, soffits, doors and skirting boards, garden furniture, gazebos, sheds or fences.
Similar products can be found in these categories:
Sealants and Adhesives
Wood Fillers
Metolux Wood Fillers
Decorating
Cleaning & Preparation
Metolux Wood Filler
All Metolux Professional Wood Fillers Products