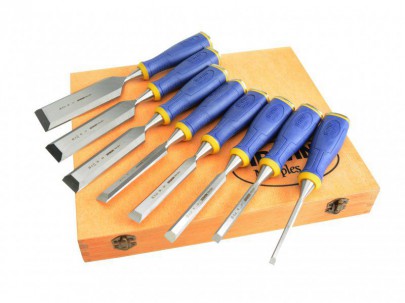 Product Description:
Irwin Marples Wood Chisel Set MS500 Set of 8 in a Wooden Box.
Product Reference: 10507958
MS500 bevel edge chisels with a metal striking cap allows use with a hammer, prolongs the life of the handle and prevents mushrooming. The soft-touch handles are oil and water resistant to prevent slippage and to give improved comfort even during prolonged use. The handle design also reduces vibrations and reduces hand fatigue.
Sizes included in set:
1/4", 3/8", 1/2", 3/4", 1", 1.1/4", 1.1/2" and 2".
Features include ;
One-piece blade forging gives added strength and durability.
Special tool steel ensures a much sharper cutting edge for quicker and easier operation.
A special hardening process gives the blade a longer lasting edge - less time spent re-sharpening.
The blade is hardened to the last inch giving more working chisel for your money.
Every chisel is honed and sharpened ready for use out of the packet - to save you time and effort.
Similar products can be found in these categories:
Tools
Wood Chisels
Wood Chisel Sets
All Irwin Marples Wood Chisels Products