GripIt® Yellow Plasterboard Fixings 15mm Tub of 100.
Product Reference: 15225100
Tub of 100 - Each tub contains 100 Yellow Gripit fixings and 100 4.0 x 25mm Screws.
GripIt® Plasterboard Fixings are a strong heavy duty fixing. The four different colours represent each GripIt® size which can hold different weights in plasterboard.
No matter whether you're an Electrician, Plumber, Carpenter or any other kind of tradesman, when fixing items directly to plasterboard, you can make savings on materials, labour and wastage by using GripIt®.
GripIt® Fixings allow you to fix loads up to 225kgs per fixing, directly to the plasterboard. Whether you're working on a domestic or commercial project, GripIt® allow you the flexibility to do so with a minimal amount of work required.
With the ability to fix directly to the plasterboard without additional reinforcement work, you can fix anything from radiators, kitchen cabinets, boilers, bathroom furniture, TV brackets, lighting and more, with peace of mind that when using a GripIt®, it's there to stay.
As a result, you can have your installation complete with a drill, tap and turn.

Note: GripIt® is designed to accept screws of various lengths provided that the tip of the screw, when fully inserted, does not make contact with solid material within the wall space. To determine the maximum length of screws, measure the thickness of the item to be secured to the wall and then add a minimum of 15 to 20mm for GripIt® threading.
All GripIts® are sold with the recommended screws.
Unique 3-way Gripping System
Open the GripIt® wings by turning the rotary insert. GripIts® are also re-useable: simply turn wing screws to release & remove.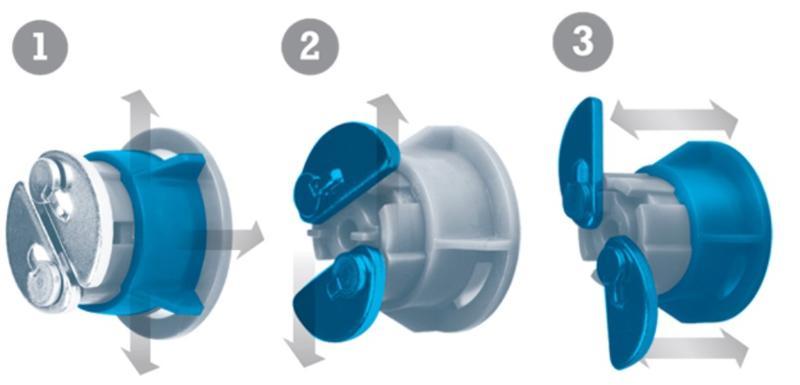 The universal collar automatically adjusts to the thickness of the plasterboard and distributes load weight across a much wider area of the plasterboard than conventional fixings or plugs. When tapped into place, anti-rotational wings help to eliminate movement and increase lateral strength.
Unique backing wings expand inside the cavity space to provide a secure anchor on the back of the plasterboard surface.
Fixing your item to the GripIt induces a vice-like grip onto all three surfaces of the plasterboard, providing the ultimate grip for heavier loads.
Technical:
The incredible loading capabilities of GripIt® are derived from a unique combination of mechanical innovation and physical engineering. Each component is designed to work in harmony to create the most effective plasterboard anchoring device on the market today. Click here to see the load bearing capacities and sizes.