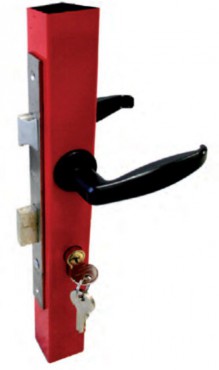 Product Description:
D&E Gate Post Lock & Keep Set from Cookson Hardware.
Product Reference: GF350025K
This gate post lock and keep set can be a real time saver! The steel posts are 2100mm x 40mm x 40mm square section and are supplied with cut-outs for quick and easy installation of the lock, cylinder and handles.
Benefits:
Save time on cutting out the holes for the lockcase, cylinder, handles and keep
Reduces labour costs
Guarantees the correct location and installation of the lock and its components
Guarantees correct alignment with the keep for the latch and deadbolt
Quick and easy to install the lock and components after powder coating or painting
Reversible latch
Can be used to reinforce a timber gate
Cost effective
Post length 2100mm
The GF350025K kit consists of the following components;
1 x Narrow stile 25mm backset sashlock
1 x Euro profile cylinder 27/27
1 x Lever handle set
2 x Weld on 5mm escutcheons
1 x 2100mm x 40mm x 40mm Lock post with 25mm backset cut outs
1 x 2100mm x 40mm x 40mm Keep post
Click here for dimensions:
Similar products can be found in these categories:
Locks, Latches & Security
Gate Locks
Gate Post & Lock Sets
All Cooksons Ironmongery Products Products