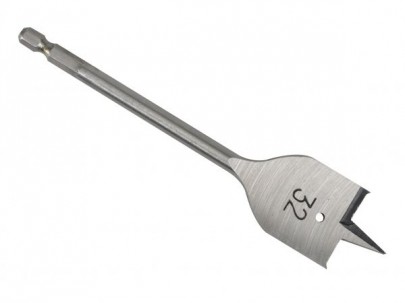 Product Description:
Forgefix 32mm Flat Wood Bit
Product Reference: FLAT32

Specially designed hexagon shank and forged tri-point cutting head helping to ensure faster and easier drilling.

Features:
Particularly suitable for drilling hard and soft wood, plywood and particle boards including MDF and chipboard.
Twin spurs reduce the lifting of wood fibres leaving a cleaner hole and helps reduce vibration.
A 300mm extension piece is available which can be used with sizes 13mm and above.
Size:
32mm x 160mm
Similar products can be found in these categories:
Tools
Drill Bits
Wood Flat Bits
Power Tools & Accessories
Drilling
Drill Bits for Wood
All ForgeFix Fixings and Fasteners Products