Dorgard Effects Fire Door Hold Open Device in Red Finish
Product Reference: 1328-A01-RED
The Dorgard Fire Door Hold Open Device enables you to legally and safely keep fire doors open, by allowing the door to close when the fire alarm sounds preventing the spread of fire and smoke. Installed onto the bottom of the fire door in under 15 minutes, the Dorgard is listening for a continuous fire alarm of 65dBA or higher.
Inexpensive to buy, the Dorgard fire door retainer requires no wiring as the unit is battery operated and is fitted to the bottom of the fire door using 4 screws.
How The Dorgard Works:
Once installed, Dorgard works by listening out for a continuous sound of 65 decibels or higher. Once this sound has been identified, after approximately 14 seconds Dorgard will release the fire door and under the pressure of the overhead door closer the door will close, sealing the area and preventing the spread of smoke and fire. Once the Dorgard hears the alarm it will emit an audible and visual warning prior to releasing the door for closing.
When Dorgard is holding a fire door open, it "listens" for the continuous sound of a fire alarm. Dorgard needs to "hear" a fire alarm that exceeds 65 decibels for longer than 14 seconds. At a general noise level of 80 decibels Dorgard will release. This facility has been built into the unit as a safety feature. Should the noise level in your premises exceed 80 decibels it is unlikely that you would hear a 65 decibel alarm, therefore the Dorgard releases the fire door to close.
Wireless:
As Dorgard is wireless it requires no wiring into the building's main fire alarm system meaning that disruption during installation is minimal and fast.
Benefits:
Keeps fire doors open at any angle

Enables greater access throughout the building

Improves ventilation within a building

Enables goods to be delivered faster and safer

Removes the risk of injury from closing fire doors

Meets all regulatory requirements

Easily imstalled in under 15 minutes

Wireless unit with fail-to-safe technology

Complies with BS EN 1155 and accepted by the Fire and Rescue Service

Available in a variety of colours and wood effect finishes

Automatic night-time release facility

Complies with BS 7273-4 category B

Adjustable sensitivity

CE marked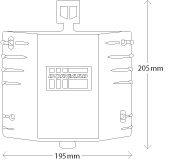 Remember, wedging open fire doors is dangerous. Fire doors are made from special materials designed to restrict the spread of fire.
In the event of a fire, closed fire doors will ensure your escape route is clear from smoke and fire. Use Dorgard to guarantee your building is safe from fire.
Please contact us if you require any further information.
As with all fire safety devices, a Fire Risk Assessment should be carried out prior to installation.