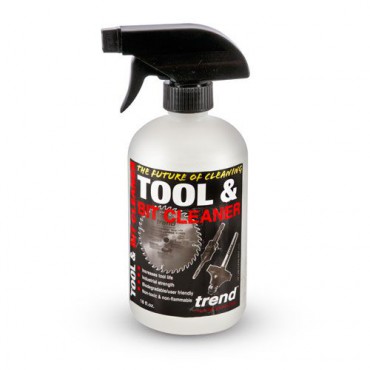 Product Description:
Trend Tool and Bit Cleaner
Product Reference CLEAN/500
Spray-on resin and pitch remover.
Simply spray on wipe off.
Ideal for sawblades, router cutters, planer blades, files, wrenches and drill bits etc.
Excellent lubricant. Provides rust and corrosion protection.
Has unique properties which break the molecular bond and lifts the dirt from the tool as opposed to eating away the dirt like citrus cleaners and other chemicals.
Industrial strength cleaner that increases tool life.
Biodegradable and user friendly.
Non-toxic and non-flammable.
Supplied in pump action dispenser.
Size 532ml
Guide to the Trend tool and bit cleaner.
Similar products can be found in these categories:
Trend Woodworking Tools
Trend Lubricants and Cutter Cleaning
Trend Spray-on Resin Remover & Cleaning Liquid
Trend Woodworking Tools
Trend Special Offers
Trend Promotions
All Trend Routing & Woodworking Products
Accessories: