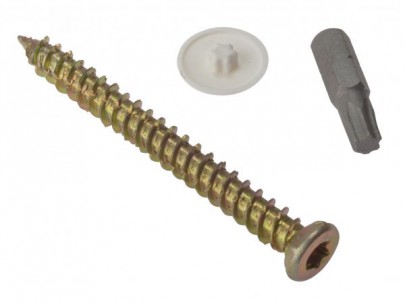 Product Description:
62mm Concrete Screws Box of 100 from Cookson Hardware.
Product Reference: CFS62
Screw straight into masonry etc. without the need for a plug. For fixing of window and door frames, timber beams, battens, wooden laths, facades, metal profiles, panels etc. in to masonry. Suitable for concrete, solid brick, perforated brick, hollow blocks, natural stone etc.
Features:
T30 T Drive recess to reduce driver wear and prevent camming out.

Flat countersunk head with 5 locking ribs.

Deep high/low thread to give high pull-out resistance and waste extraction.

Serrated V-threads to achieve optimum insertion into all masonry types
Similar products can be found in these categories:
Screws, Nails and Fixings
Concrete & Masonry Screws
7.5mm Concrete Screws
All ForgeFix Fixings and Fasteners Products
Accessories: