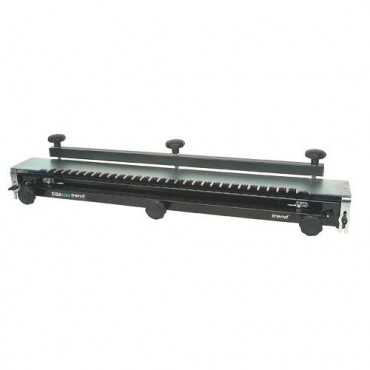 Product Description:
The Trend 600mm Craft Dovetail Jig
Product Reference: CDJ600
An accurate and easy to use Trend Dovetail Jig for a variety of elegant dovetail joints.
Cuts 12.7mm (1/2 inch) wide half blind dovetails or rebated dovetails in one operation.
Precision made laser cut zinc plated steel template with packing piece.
Adjustable offset stops.
A Unibase and fine height adjuster may be required for certain makes of router.
A range of accessory templates are available for box joint, dowel and through dovetails.
Comes with:
1 x 1/4" Shank TCT 104 degree dovetail cutter
1 x 15.8mm Guide bush
Router and fine height adjuster not included.
Dimensions:
Rating = Craftsman
Dovetail size = 12.7mm
Workpiece width max. = 600mm
Workpiece thickness min. = 12mm
Workpiece thickness max. = 25mm
Guide bush size = 15.8mm
Router base dia. max = 180mm
How to use the Trend Dovetail Jig.
Similar products can be found in these categories:
Trend Woodworking Tools
Trend Router Jigs
Trend Dovetail Jig CDJ600
Power Tools & Accessories
Router Jigs & Tables
Dovetail Jigs
All Trend Routing & Woodworking Products
Accessories: