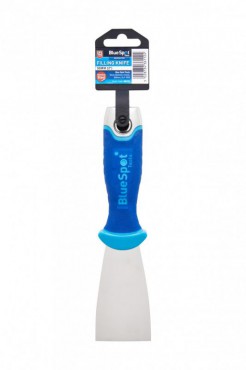 Product Description:
BlueSpot Flexible Filling Knife 50mm.
Product Reference: 36112
The BlueSpot 50mm (2") Filling Knife is manufactured from stainless steel for increased durability. Designed for inserting filler into cracks or holes in wood and plaster. The flexible blade design produces a smooth finish prior to sanding. Features soft grip handle for increased comfort.
Manufactured from stainless steel
Designed for inserting filler into cracks or holes in wood and plaster
Flexible blade design produces a smooth finish prior to sanding
Features soft grip handle for increased comfort
Blade width: 50mm (2")
Similar products can be found in these categories:
Tools
Knives & Scrapers
Filling, Stripping Knives & Scrapers
Decorating
Decorating Tools
Filling Knives
All BlueSpot Tools Products