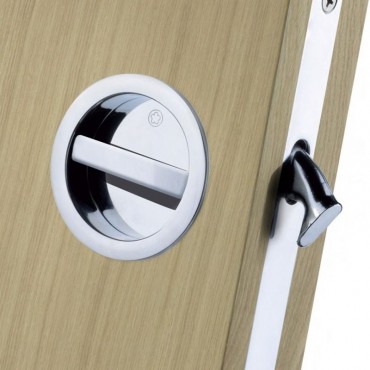 Product Description:
Manital Sliding Pocket Door Bathroom Lock Set in Polished Chrome
Product Reference: ART55BCP
The Manital ART55B bathroom lock set is suitable for use on sliding bathroom doors, in particular the pocket style doors. The slim lockcase has a hook bolt that locks into a morticed keep in the frame when the thumbturn is operated. The flush fitting roses are sunk into the door face. A smaller edge pull enables the user to pull the door back out from the pocket. To operate the user locks the door with the thumbturn to provide privacy. The coin-release inside the external rose provides access in the event of an emergency.
Features:
Quality Italian manufactured product by Manital.
Roses - 57mm diameter.
Edge pull - 29mm diameter.
Lockcase - 70mm wide x 50mm backset.
Suitable for 40mm and 44mm doors in particular.
Finish:
Polished Chrome
Similar products can be found in these categories:
Sliding Door Track
Pocket Sliding Door Gear
Pocket Door Gear Accessories
Locks, Latches & Security
Sliding Door Locks
Sliding Door Locks & Latches
Locks, Latches & Security
Bathroom Locks, Toilet Locks & Deadbolts
Pocket Door Bathroom Locks
All Manital Door Handles Products
Accessories: