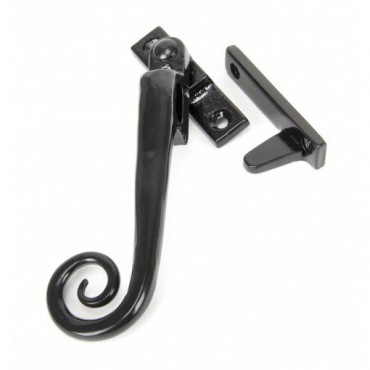 Product Description:
From The Anvil Night Vent Locking Monkeytail Casement Fastener Left Hand in Black Finish.
Product Reference: 51417L

From The Anvil night vent monkeytail non-reversible, locking casement fastener supplied complete with all fixing screws, a hex key for locking and a keep plate. This product is screw fitted and there is no need for trickle vents. The keep will, screw to a mullion with a 20mm flat, leaving more room for mouldings. They can be locked in the nightvent and closed positions with a large headed allen key. The nylon washer behind the handle is designed to reduce friction.
Each piece is hand forged by craftsmen meaning no two pieces are identical, each one a unique yet functional work of art that will only enhance it's setting.
Dimensions: Handle length 122mm. Fixing plate 63mm x 13mm. Keep plate 57mm x 17mm.
Finish: Black ( suitable for internal or external use )
Non-reversible. Left Hand shown. Image shows left hand.
Similar products can be found in these categories:
Window Ironmongery
Anvil Window Fittings
Black Antique Anvil Window Fittings
Window Ironmongery
Casement Window Fasteners
Antique Black Window Fasteners
All From The Anvil Door & Window Hardware Products
Accessories: