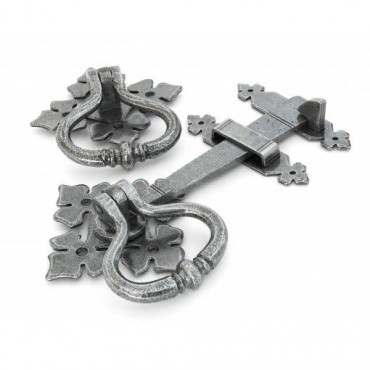 Product Description:
From The Anvil Shakespeare Latch Set in Pewter Patina Finish.
Product Reference: 33685

From The Anvil Shakespeare latch set has been hand crafted and is truly an elegant piece of work. The set consists of two handles, an 8mm spindle which is long enough for a 3" thick door or gate, keeps, and all matching fixing screws.
Dimensions: Handle width 95mm. Latch length 214mm. Fixing plate. 130mm. Keep size 127mm x 27mm.mm.
Finish: Pewter Patina ( suitable for internal or external use ).
Similar products can be found in these categories:
Locks, Latches & Security
Door Latches
Cottage Latch Set
Door Hardware
Door Handles
Ring Turn Door Handle Set
All From The Anvil Door & Window Hardware Products
Accessories: