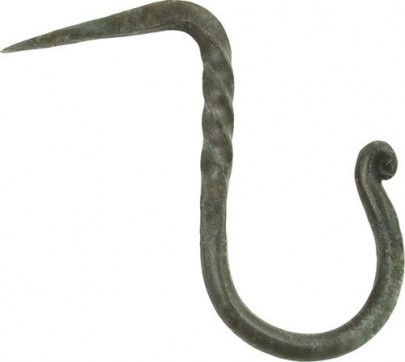 Product Description:
From The Anvil Small Cup Hook in Beeswax Finish.
Product Reference: 33222

From The Anvil ornate cup hooks have a decorative twist in the upright and a nice little curl at the top of the hook. They are fixed by way of a drive in spike end. The drive in cup hooks can be used for anything from hanging cups on a dresser, holding a wooden rail (such as a towel rail) or simply for hanging up clothing. Each piece is hand forged by craftsmen meaning no two pieces are identical, each one a unique yet functional work of art that will only enhance it's setting.
Dimensions: Overall size 38mm x 25mm.

Finish: Beeswax ( suitable for internal use only ).
Similar products can be found in these categories:
Screws, Nails and Fixings
Hooks & Eyes
Cup Hooks
All From The Anvil Door & Window Hardware Products