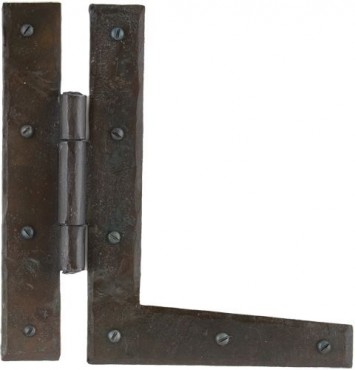 Product Description:
From The Anvil Pair of 7" HL Hinges in Beeswax Finish.
Product Reference: 33182
From The Anvil "HL" hinges. HL hinges are similar to H hinges but with one strap shaped like the letter L to provide extra strength for heavier or damaged doors. Sold in pairs complete with all fixing screws.
Each piece is hand forged by craftsmen meaning no two pieces are identical, each one a unique yet functional work of art that will only enhance its setting.
Dimensions: Overall size 178mm x 175mm. "L" Fixing plate 178mm x 133mm.

Finish: Beeswax ( suitable for internal use only ).
Similar products can be found in these categories:
Hinges
Miscellaneous Hinges
H & HL Hinges
All From The Anvil Door & Window Hardware Products