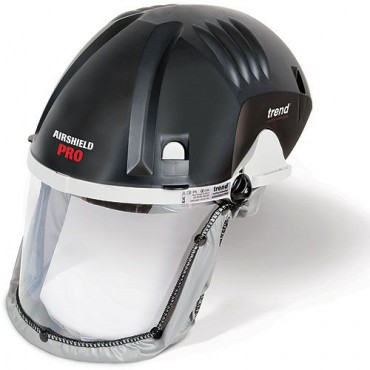 Product Description:
The Trend AirShield Pro Full Face Respirator.
Product Reference: AIR/PRO
Trend Airshield Pro Respirator, battery powered for use with all woodworking applications.
Suitable for use when machining MDF.
Approved to new standard BS EN 12941.
New features include:
Combination face-seal and hood to improve protection.
Motor positioned away from the sensitive area of the forehead to reduce noise and irritation.
Attachment points for optional ear defenders.
Strategic component distribution ensure optimum centre of gravity is achieved for balance and comfort.
Twin filters with efficiency of 98%, more than double the Airshield MK1.
Audible low battery warning.
Removable 8 hour Ni-MH battery.
Includes:
1 x Pair THP2 fine filters
1 x 8 hour battery
1 x Battery charger
1 x Carry bag
1 x Clear visor overlay
1 x Airflow indicator
Dimensions:
Rating = DIY/Craftsman/Prof
Airflow min. = 160 l/min
Airflow fully charged = 200 1/min
Size headband = 52cm-62cm
Motor sound level = 70dB
Battery = 8hrs
Weight = 995g
Voltage = 230 volt
Eye protection = BS EN 166 (Medium Energy Impact)
Respiratory protection (NPF50) = BS EN 12941 THP2
Assigned protection factor = APF20
Similar products can be found in these categories:
Trend Woodworking Tools
Trend Power Tools and Safety
Trend Airshield Pro
Safety / Workwear
Respiratory Protection & Masks
Respirators & Masks
Power Tools & Accessories
Safety Equipment
Masks & Respirators
All Trend Routing & Woodworking Products
Accessories: