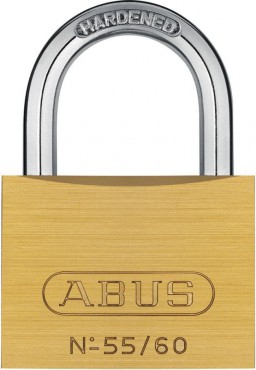 Product Description:
Abus Brass Padlock 55 Series 30mm.
Product Reference: 35074
The body of the Abus 55 series padlock is manufactured from solid brass, the inner component's are made from non-corrosive materials. Precision pin tumbler cylinder. Shackle is made from hardened steel.
Basic protection
Use on Cobra loop cables, doors, gates, cabinets, lockers, toolboxes, cellar windows, sheds, switchgears, barriers
Technology:
Body made of solid brass
Inner components made of non-corrosive materials
Hardened shackle
Precision pin tumbler cylinder
Dimensions:
Overall width: 29 mm. Overall height: 44 mm. Overall depth: 12 mm.
Shackle width: 14.5 mm I.D. Shackle height: 13.5 mm. Shackle Dia: 4.5 mm.
Similar products can be found in these categories:
Locks, Latches & Security
Padlocks
Brass Body Padlocks
All Abus Padlocks and Security Products Products