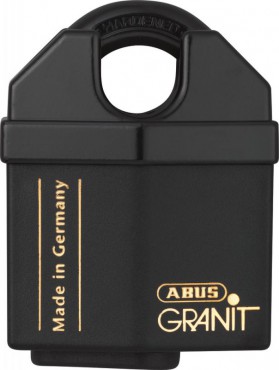 Product Description:
Abus Granit Plus Closed Shackle Padlock 37/60mm.
Product Reference: 32380
The ABUS 37/60mm Granit PLUS solid steel closed shackle disc cylinder padlocks offer the highest protection against manipulation (6 Tonne pull resistance).
The body and 11mm removable shackle are both made from hardened alloy steel with a cataphoretic coating and rustfree components which give 40 years of corrosion protection.
All Granit padlocks endure a -40° Freeze and Impact Test and are bolt cutter, drill and saw resistant.
250,000 key differs, each lock supplied with 1 illuminated and 1 standard plus key and card.
Where to use it:
Securing sizeable objects (storerooms, containers, lorries)
Securing objects with a high risk of theft
Special requirements imposed by insurance companies
For highest security requirements.
How it works:
Lock and unlock with a key
Key Retaining: a key is needed for locking, lock retains key until locked
Technology:
Maximum quality assurance
ABUS Plus disc cylinder: maximum precision for securing against intelligent attempts to break open, 250,000 different key variations
Costly processes for best possible anti-corrosion
Double ball locking
Dimensions:
Overall width: 65 mm. Overall height: 85 mm. Overall depth: 35 mm.
Shackle width: 18 mm I.D. Shackle height: 16 mm. Shackle Dia: 11 mm.
Similar products can be found in these categories:
Locks, Latches & Security
Padlocks
Heavy Duty Padlocks
All Abus Padlocks and Security Products Products