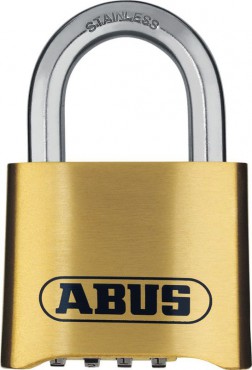 Product Description:
Abus Combination Padlock 180IB Series 50mm.
Product Reference: 32074
Combination Locks for Keyless Security.
These compact combination locks are suitable for a range of uses, thanks to their special locking system. A four digit re-settable coded padlock. The body is made from solid forged brass and features a stainless steel shackle and non-corrosive inner components.

Where to use it:
To secure valuables/goods of medium value or at an average risk of theft
Ideal for use in severe weather conditions (e.g. in coastal regions or ports, to secure goods on vehicles and boats in outdoor use)
To secure doors, gates, lorries, lockers, tool boxes, cellar windows, sheds, switchboards, etc.
Technology:
4-digit resettable code
Body made from solid forged brass
Shackle made from stainless steel
Inner components made from non-corrosive materials
Precision locking mechanism with special protection against manipulation
Dimensions:
Overall width: 53 mm. Overall height: 75 mm. Overall depth: 25 mm.
Shackle width: 25 mm I.D. Shckle height: 25 mm. Shackle Dia: 8 mm.
Similar products can be found in these categories:
Locks, Latches & Security
Padlocks
Combination Padlocks
All Abus Padlocks and Security Products Products