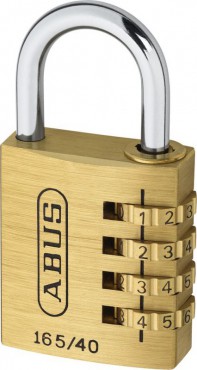 Product Description:
Abus Combination Padlock 165 Series 30mm.
Product Reference: 32162
Combination Locks for Keyless Security.
These compact combination locks are suitable for a range of uses, thanks to their special locking system. Applications include securing items of luggage, tool boxes or lockers in sports clubs. The body is made from solid brass.
Where to use it:
Low to medium security requirement where convenience of use is a high priority (e.g. schools, companies)
165/30mm to secure valuables / goods of lesser value or at a low risk of theft
165/40mm to secure valuables / goods of medium value or at an average risk of theft
To secure bags, suitcases, jewel boxes, cash boxes, cupboards, lockers, tool boxes, basement windows, switchboards, etc.
Technology:
Brass lock body
Steel shackle
165/30mm individually resettable 3-digit code
165/40mm individually resettable 4-digit code
Dimensions:
Overall width: 30 mm. Overall height: 70 mm. Overall depth: 15 mm.
Shackle width: 14 mm I.D. Shackle height: 26 mm. Shackle Dia: 5 mm.
Similar products can be found in these categories:
Locks, Latches & Security
Padlocks
Combination Padlocks
All Abus Padlocks and Security Products Products