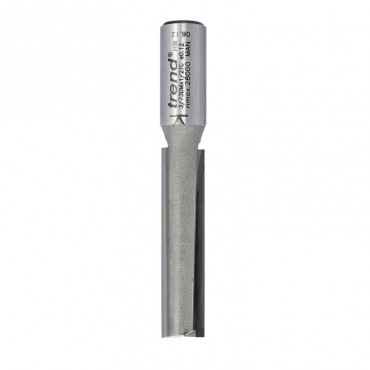 Product Description:
Trend Professional TCT Straight Fluted Two Flute Router Cutter from Cookson Hardware.
Product Reference: 3/73DMX1/2TC
Tungsten Carbide Tipped router cutter for abrasive materials such as chipboard, MDF, plywood, hardwoods and hard plastics.
Two flutes give a clean finish to cut edges.
All cutters are suitable for plunge routers unless stated.
All cutters above and including 9.5mm diameter, have TCT plunge centre tips.
Small diameter cutters should be handled with care and shallow passes taken.
Short shank for Makita 3600B & 3612BR, Ryobi and Hitachi routers.
Especially suited for drilling.
Size:
Diameter - 12.0mm
Cut Length - 50mm
Overall Length - 84mm
Shank Diameter - 1/2"
Similar products can be found in these categories:
Trend Woodworking Tools
Trend Router Bits Professional TCT
Trend Router Bits Professional TCT Straight
Power Tools & Accessories
Router Bits
Straight Flute Router Bits
All Trend Routing & Woodworking Products