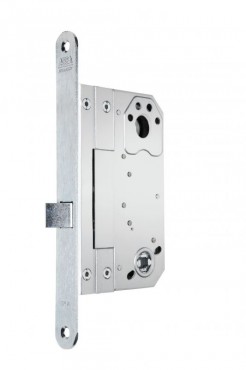 Product Description:
ASSA Modular Latchcase 1498 70mm Satin.
Modular Scandinavian Mortice Latch
Our highest selling Modular lockcase range has been in the market for over 30 years, and with good reason. Whole life costing is guaranteed as the range has been successfully cycle tested to 2.3 million cycles which exceed the EN 12209 standard requirement of 200,000 cycles.
Cylinder master keying for access control with simple replacement of cylinders if the keys are lost or stolen
Heavy sprung follower allows for the use of unsprung furniture and heavy use over time
Choice of key, turn or handle arrangement with the key being easy to remove in locked or unlocked position
Available with radius faceplate for installation using CNC machinery or square faceplate for on-site fitting
Guided 21mm deadbolt – 3 piece hardened steel laminated for additional strength and improved performance (90˚ turn of key or 360˚ turn for high security)
View Assa 1498 Latch Case Data Sheet Here
View Assa Cylinder Accessory Sets Here.
Specification:
Latch for inner doors where locking is not required
Comes complete with striking plate
Latchbolt reversible without opening lockcase
No locking device
Lever handle retracts latchbolt
Faceplate: Radius
Lever furniture fixing points: 30mm NE/SW bolt through fixing points
Furniture: For use with sprung and unsprung door furniture
Backset: 50 or 70mm
Follower: 8mm
Dimensions (D x H x W): 74 or 94 x 150 x 18.5mm
Centre distance: 111mm
Faceplate size: 22mm
Latch and deadbolt finish: Latch – Bright zinc
Case material finish: Zinc-plated steel
Faceplate and strike plate finish: SC
Splinter guard: No
Supplied with: Lockcase with faceplate and 2885 strike plate
Suitable for fire doors: Timber (FD30/60), steel (FD120)
Certifire approved: No
Accessories:
Intumescent kit for timber
Additional strike plates
Lever range (Scanflex/Classic/Distinction/RukoLine)
Similar products can be found in these categories:
Locks, Latches & Security
Assa Modular Locks & Accessories
Assa Lockcases
All Assa Abloy Products