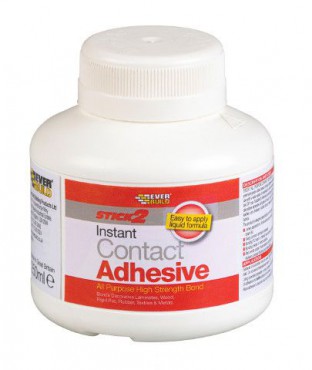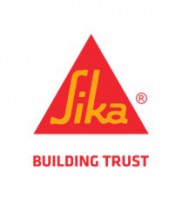 Product Description:
Everbuild Stick 2 All Purpose Contact Adhesive 250ml.
Product Reference: CON250
STICK 2 ALL-PURPOSE CONTACT ADHESIVE is a brushable, general purpose contact adhesive with fast setting properties coupled with long open time.
Stick 2 All Purpose Contact Adhesive is a premium grade rubber based contact adhesive suitable for use with a wide variety of materials for both professional and DIY use. The product may be used internally and externally (apart from the 5L size which is for internal use only) for bonding decorative laminates, all types of wood, rigid PVC, ABS, leather, cork, linoleum, rubber, stone, metals and dense fabrics. All tins are fully printed.
Benefits:
Excellent adhesion - adheres to most common surfaces.
Exceptional bond strength - out performs conventional wood glues.
Internal and external use (excluding 5ltr size) - excellent weathering and ageing properties.
Areas For Use:
Laminate materials
Bonding pu foam or mineral wool panels to plasterboard.
Bonding metals to most surfaces.
Bonds wood, rubber, most plastics and leather, cork, lino, rigid PVC, dense fabrics.
Size: 250ml Tin
Similar products can be found in these categories:
Sealants and Adhesives
Adhesives & Glues
All Purpose Contact Adhesives
All Sika Everbuild Products