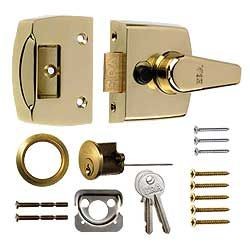 Product Description:
Era Rim Night Latch Front Door Lock 60mm in Polished Chrome from Cookson Hardware.
Product Reference: 1630-37-7
The Era Replacement Front Door Lock, comes with the option of having a deadlocking or non-deadlocking facility on the external cylinder. The newly designed slightly larger lock body will hide most existing marks on the door when replacing existing older locks. Accidental locking is avoided by a bolt hold back facility on the body of the lock rather than the handle. The easy grip handle is ideally suited for the elderly.
Note: This lock is not suitable for outward opening doors.
Size:
60mm Backset
This rim lock is also available in 40mm Backset (Narrow Style). Backset is measured from the edge of the door to the key hole.

Finish:
Polished Chrome Body with Polished Chrome Cylinder
Similar products can be found in these categories:
Locks, Latches & Security
Rim Locks
Standard 60mm Backset Rim Nightlatches
All Era Security Products Products