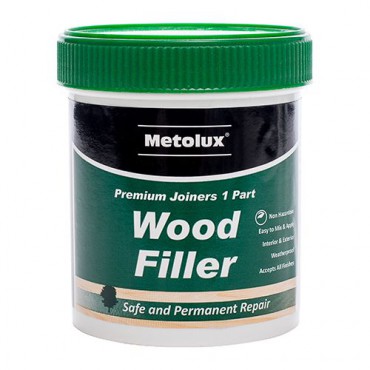 Product Description:
Metolux 1 Part Wood Filler 250ml White.
Product Reference: 65388

Metolux 1 Part Wood Filler is a pre-coloured one part high strength polyester wood filler supplied in a handy pack size. Used for the filling and repair of small pinholes and cracks below 5mm depth.
Particularly suited to flat face-up applications and for materials such as MDF and chipboard. Fast drying in the normal atmosphere.
Key Benefits:
Creamy texture for easy application
Handy pack size in a range of suitable colour matches
Easy to work with particularly for large flat surfaces
Accepts all finishes including all known paint systems and varnishes
Easy to sand down to perfection
Ideal for interior use - very low odour
Strong plastic screw lid packaging with heat seal foil freshness closure
Size: 250ml tub
Colour: White
Similar products can be found in these categories:
Sealants and Adhesives
Wood Fillers
Metolux Wood Fillers
Decorating
Cleaning & Preparation
Metolux Wood Filler
All Metolux Professional Wood Fillers Products