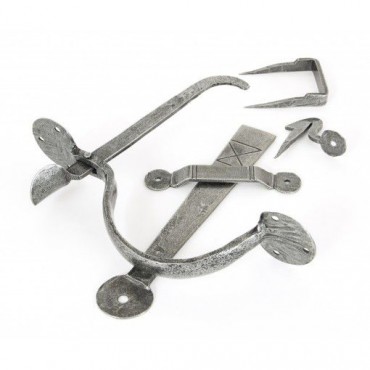 Product Description:
From The Anvil Medium Bean Thumblatch Set XL in Pewter Patina Finish.
Product Reference: 33762

Sold as a complete set with all fixing screws. The thumb piece passes through the door and raises the latch bar off the keep. To restrict the latch bar movement a staple pin and a screw on staple pin are provided (discard the unsued pin). The XL set comes with an extra long thumblatch for use on doors with a maximum thickness of 75mm.
This product has been drawn from a single piece of steel to make it stronger. Each piece is hand forged by craftsmen meaning no two pieces are identical, each one a unique yet functional work of art that will only enhance its setting.
Dimensions: Handle length 216mm, Thumb bar length 165mm, Latch length 190mm.
Finish: Pewter Patina ( suitable for internal or external use ).

Side View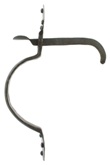 Similar products can be found in these categories:
Locks, Latches & Security
Door Latches
Thumb Latch Handle Set
Door Hardware
Door Handles
Thumb Latch Door Handles
All From The Anvil Door & Window Hardware Products