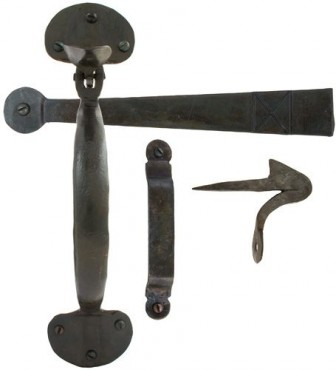 Product Description:
From The Anvil Heavy Bean Thumblatch Set in Beeswax Finish.
Product Reference: 33159

Sold as a complete set with all fixing screws. The thumb piece passes through the door and raises the latch bar off the keep. To restrict the latch bar movement a screw on staple pin is provided. For use on doors with a maximum thickness of 55mm. The heavy bean latch set has bigger dimensions than the medium bean latch set and is designed for use on larger doors.
This product has been drawn from a single piece of steel to make it stronger. Each piece is hand forged by craftsmen meaning no two pieces are identical, each one a unique yet functional work of art that will only enhance its setting.
Dimensions: Handle length 228mm, Thumb bar length 140mm, Latch length 216mm.
Finish: Beeswax ( suitable for internal use only ).
Side View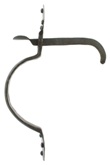 Similar products can be found in these categories:
Locks, Latches & Security
Door Latches
Thumb Latch Handle Set
Door Hardware
Door Handles
Thumb Latch Door Handles
All From The Anvil Door & Window Hardware Products