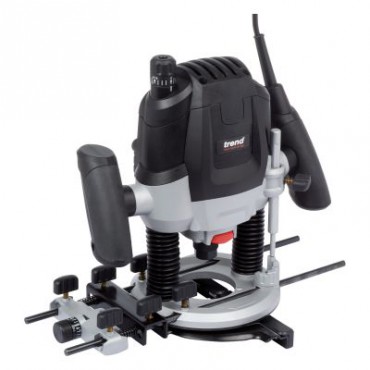 Product Description:
Trend 110v Variable Speed 1/2 inch Plunge Router Kit T7ELK.
Trade-focused plunge router with advanced safety features, engineered to deliver reliable, fast, accurate cuts. Perfect for kitchen fitting, worktop joints and timber profiling.
Powerful 2100W Motor with a great power-to-weight ratio for smooth and effortless handling.
50mm Plunge Depth is ideal for kitchen fitting applications, such as worktop cutting and jointing, sink fitting, hob apertures and carcass modifications.
6-Level Variable Speed Control offers precise control across a wide range of cutters, materials and applications.
Ergonomic Inclined Handles feature an integrated power trigger and a soft grip moulding for comfortable use.
Micro-Adjustable Side Fence with adjustable facings and 0.1mm increments for accurate edge rebating, grooving and moulding.
Trammel Pin enables users to create perfect circular cuts.
Plunge Depth Limiter is easy to set and prevents over-cutting.
Fine Height Adjustment includes an easy-to-read display for precision depth adjustments. 1 rotation = 2mm.
7-Position Rotating Turret to pre-set plunge depth limits for fast, repeatable batch and stepped cutting.
Double Locking Collet features a safety design to prevent accidental cutter ejection and a multi-slit profile for concentric clamping to the cutter shank.
Dust Protection Gaiters minimise sawdust and dirt build-up, keeping the plunge mechanism operating smoothly.
Spindle Lock for quick and easy cutter changes.
Moulded Carry Case provides safe storage for router and accessories.
For UK & Eire sale only.
Dimensions:
Duty Rating=Medium/Trade
Motor Power=1750W
AC Voltage=110V
Plug Type=110V, 16A (fitted)
Supplied Collet Size=ÚÓ + ?Ó sleeve
Plunge Stroke (Max)=50mm
No-Load Speed=11,500-28,000rpm
Supplied Guide Bush=30 mm
Fence Rod Length=360 mm
Fence Rod Centers=84 mm
Fence Rod Diameter=8 mm
Base Aperture Diameter=70 mm
Cutter Diameter (Max)=40 mm
Dust Spout Internal Diameter=35 mm
Sound pressure Lpa=90.0 dB(A)
Acoustic pressure Lwa=101.0 dB(A)
Hand/arm vibration=3.36 m/s2
Weight (Net)=4.3 kg
Power Cable Length=3.0 m
Similar products can be found in these categories:
Power Tools & Accessories
Routers
Routers 110v / 115v
Trend Woodworking Tools
Trend Power Tools and Safety
Trend Routers
All Trend Routing & Woodworking Products