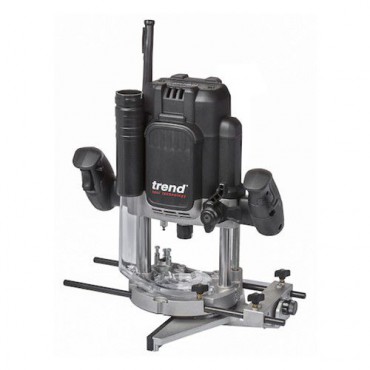 Product Description:
Trend Router Power Tool T14EK 240volt 1/2 Inch 2300W Variable Speed & Kit Box.
Product Reference: T14EK
Trend high-performance plunge router with advanced safety features, engineered to deliver reliable, fast, accurate cuts. Perfect for hand-held and Router Table use. Powerful 2300W Motor delivers consistently high power, torque and speed, and features soft-start to prevent kick-back. 80mm Plunge Depth is deal for deep cutting applications. Perfect for lock jigs, worktop joints and timber profiling.
Automatic Power Shut-Off prevents the router from accidental start-up if the trigger lock-on switch is engaged, and the power supply is lost and restored or interrupted.
Router Table Safety Switch bypasses the Automatic Power Shut Off feature and replaces the need for a typical NVR (No Volt Release) switch.
2-in-1 Plunge and Router Table Height Adjuster can be used from above AND below the router, in both table and hand-held mode. Each 360¡ turn gives 1.0mm adjustment.
Trend Base Configuration features a unique precision guide bush centring device to ensure perfect concentricity between cutter and collet for pinpoint accuracy when used with Trend routing jigs.
Auto-Lock Plunge Lever allows users to quickly, accurately and safely reposition the plunge position without releasing the handles.
Router Table Cam-Lock Quick-Release Mounts make mounting and unmounting the router quick and easy.
Extra-Wide 75mm Base Aperture to accommodate over-size cutters, such as panel raisers, when used with a Router Table.
7-Level Variable Speed Control ranges from 9,000 to 22,000rpm, giving the user total control across a range of cutters, materials, and applications.
Top-Mount Cyclone Extraction with enhanced dust adapter efficiently clears debris to give users 360¡ visibility and prevent extraction hoses from ÔsnaggingÕ.
Ergonomic Inclined Handles support a natural wrist position, reduce strain, and increase control when routing with arms outstretched.
Quick-Set Depth Post with rack & pinion 1.0mm indexed increments and zeroing function for fast, easy adjustment.
Micrometer Fine Height Adjuster features 0.1mm increments and an easy-to-read display for precision depth adjustment.
Integrated Power Trigger prevents accidental movement and kick-back when turning the router on and off.
Micro-Adjustable Side Fence with adjustable facings and 0.1mm increments for accurate edge rebating, grooving and moulding.
Automatic LED Work Lights allow users to accurately position the cutter prior to engaging the material and making costly errors in low-light situations.
Phosphor Bronze Bushings are corrosion resistant, durable and self-lubricating to prevent racking and deliver a smooth, accurate plunge action.
Anti-Scratch Base Plate Low-friction, screw-mounted, replaceable phenolic base plate
Integrated Router Rest provides users with a safe way of changing cutters whilst preventing debris from entering motor vents.
ER Style Collet features a double-locking safety feature to prevent accidental cutter ejection and a multi-slit profile for concentric clamping to the cutter shank.
Dimensions:
Duty Rating=Heavy/Professional/Trade
Motor Power=2300W
AC Voltage=240V
Plug type=UK 3 pin
Supplied collet size=1/2"
Plunge stroke (Max)=80 mm
No load speed=9,000-20,000rpm
Supplied guide bush=30 mm
Fence Rod Length=360 mm
Fence Rod Centers=110 mm
Fence Rod Diameter=10 mm
Base Aperture Diameter=75 mm
Cutter Diameter (Max)=50 mm
Dust Spout Internal Diameter=35 mm
Sound Pressure (Lpa)=95.1 dB(A)1
Acoustic pressure (Lwa)=106.1 dB(A)2
Hand/Arm vibration=<2.1 m/s2
Weight (Net)=6.5kg
Power Cable length=3.5 m
Similar products can be found in these categories:
Trend Woodworking Tools
Trend Power Tools and Safety
Trend Routers
Power Tools & Accessories
Routers
Routers 230v / 240v
All Trend Routing & Woodworking Products