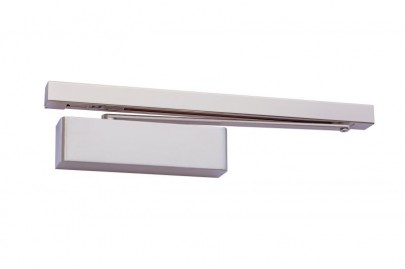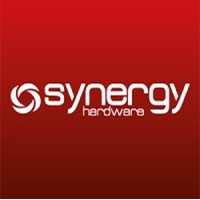 Product Description:
Synergy S3401 Electromagnetic Hold Open Surface Mounted Cam Action Door Closer Size 2 - 4 with Backcheck Figure 1 Silver Trimplate.
Product Reference: S3401.SES.MEC.EHO
Synergy overhead surface mounted, electromagnetic hold open, cam action door closer, size 2 - 4 with backcheck. An efficient cam action door closer provides easy operation. Capable of meeting the opening force requirements of ADM/BS8300 (873mm minimum door width at EN3).
Internal use cam action door closer.
Power Adjustable size 2-4 by spring.
Order S3401EHO door mount pull side application and S3406EHO door mount push application.
Angle bracket available for deep reveal exceeding 21 mm push side door mount.
Architectural Radius edge cover.
Suitable for doors up to 1100 mm wide and 80 kg weigh on door pull and push applications.
Fully tested to the requirements of BS EN 1155
Independent door speed and door latching valves.
Certificated for use on latched and unlatched fire doors.
Fully adjustable backcheck in all applications
For use on single and double leaf doors.
Easy installation
High corrosion protection
Fire tested to BS EN 1634 part 1. Assessed for use on 30, 60, and 120 minutes on timber fire doors.
CE marked certificate 2812-CPR-AE5019
Certifire approved product certificate CF5312
CPR declaration of performance certificate: DOP-SHL-DC78.
Cam action technology providing low opening force for ease of opening.
Available in Silver, Satin Stainless, Polished Stainless, Polished Brass, Satin Brass, Antique Brass, Polished Copper, Satin Copper, Black, RAL Colours, Wide range of Bronze Finishes.
Technical Information to Download:
S3400EHO Line Drawing
S3400EHO Figure 1 Fixing Instructions
S3400EHO Synergy Catalogue Page
Similar products can be found in these categories:
Door Closers
Cam Action Door Closers
Electro-Magnetic Surface Mounted Cam Action Door Closers
Door Closers
Electro Magnetic Door Closers
Synergy Electromagnetic Door Closers
All Synergy Hardware Products