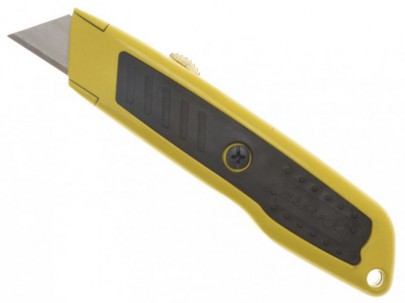 Product Description:
BlueSpot Trimming Knife with Soft-Grip Handle.
Product Reference: 29158
The Blue Spot Soft Grip Hi-Vis Retractable Knife is manufactured from zinc alloy steel for increased durability, the knife also features a soft grip handle. Thumb operated button allows blade to retract for increased safety. There is also storage inside the handle for spare blades. Suitable for use with standard utility blades. Includes 1 utility blade.
Manufactured from zinc alloy steel for increased durability
Thumb operated button allows blade to retract for increased safety
Soft grip for increased control and grip
Storage inside the handle for spare blades
Suitable for use with standard utility blades
Includes 1 utility blade
Similar products can be found in these categories:
Tools
Knives & Scrapers
Utility Knives
Decorating
Decorating Tools
Trimming Knives
All BlueSpot Tools Products