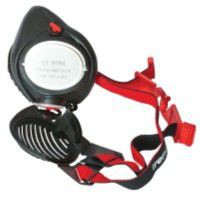 Product Description:
Trend Air Stealth P3(R) Filter Pack of 1 Pair.
Product Reference: STEALTH/1
Pair of P3(R) filters for AIR STEALTH half mask with Twin HEPAC* pleat encapsulated design filter provides 99.99% filtration of airborne particles and aerosols at 0.3 micron and above.
High Efficiency Particulate Air Composite.

Assigned Protection Factor=APF20
Pack of 1 Pair.
Similar products can be found in these categories:
Trend Woodworking Tools
Trend Power Tools and Safety
Trend Air Stealth Safety Mask
All Trend Routing & Woodworking Products